The Woodcutter Settlements of Knysna - Philip Caveney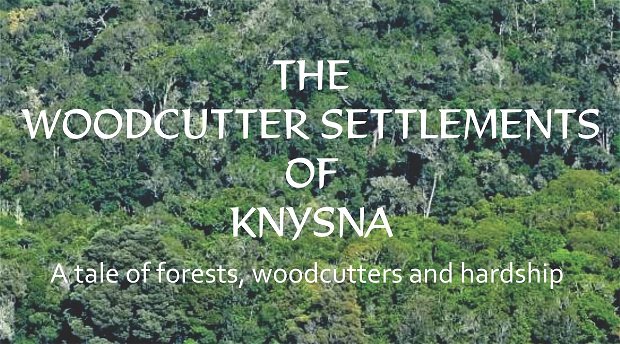 The distribution of the woodcutters of the Knysna Forests in the 1860s, and early attempts at relocating them
The Woodcutter Settlements of Knysna, by Philip Caveney, deals with the distribution of the woodcutters in the forests by the mid-1860s, and discusses the early efforts of the Forestry Department to relocate them - a initiative which had resulted from the findings of a Commission of Enquiry into the general state of the forests, triggered by an appeal and subsequent report by local farmer and Cape politician Henry Darnell, in 1866.
An 1868 report by Forest Conservator Christopher Harison and the Road and Pass builder Thomas Bain, to the Cape Colonial Secretary, included a review on the problem of the woodcutters who were squatting in the forests. The report made a formal recommendation for the laying out of suitable villages on the forest margins, for occupation by the woodcutters. 
In 1878 the instruction was given to go ahead with a woodcutter resettlement scheme. In 1882 a specialist team met at various locations throughout the George, Knysna and Tsitsikamma forest area to confer with the woodcutters to mark out lots of farm land as required. 144 woodcutter allotments were laid out during late 1882 and another 44 lots were set out in 1890.
But, as pleased as the woodcutters may have been to receive this free grant of quitrent farm property from the Cape Government, some woodcutter allotments were never ever occupied, and many of them were soon abandoned. However, many of the allotments do still survive and add to the particular character of our countryside.