Mayors of Knysna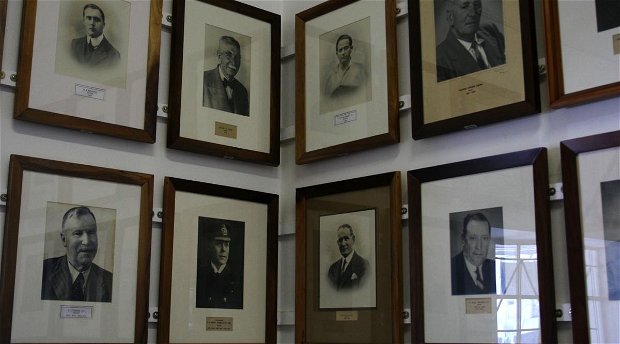 All the people who've served as Knysna's first citizens since 1883

The Municipality Knysna grew out of two separate but neighbouring villages on the banks of the Knysna Estuary: Melville, which was situated west of the present-day Long Street (and which was named for Henry Dundas, 1st Viscount Melville - at that time treasurer of the Royal Navy), and Newhaven (um... east of Long Street). 
Things took their time in those days in Outeniqualand. With settlement growing in the area, (albeit slowly) plans were drawn up for the establishment of the village of Melville as early as 1825 - but the Admiralty, which owned the land, didn't transfer it to the Colonial Government until 1862. So it took about 37 years for the title deeds to be be drawn up.
Newhaven (the name should be self-explanatory) was laid out by John Sutherland in 1845, and the villages existed side by side (well, across the road from one another) until 1881, when the locals decided to merge them.
They met in November, 1881 and elected a chairman and four commissioners to act as interim councillors.
The Governor of the Cape recognised the Municipality of Knysna under Proclamation No 217 of 1882 - and Thomas Horn was elected chairman of the first official Council, which held its first meeting on the 14th of March, 1883.
But that didn't mean that Municipal matters suddenly started speeding up: the Council took a decision in 1898 to install the town's piped water system - but the first water only actually flowed through them in 1926...
Although that probably wasn't necessarily the fault of any of our mayors.
Knysna's Mayors
Portraits of most of the mayors of Knysna hang in the entrance of the Old Gaol.
Here's a list of all of them - with some notes about those who made exceptional contributions to the town:
1883 - 1885: Capt. Thomas (Skipper) Horn JP - Considered the founding father of the town council, Skipper Horn was a seaman and later owner of St George's Tavern (renamed the Royal Hotel after Prince Alfred, the Duke of Edinburgh and son of Queen Victoria, spent a night there in 1867). Skipper Horn was also a warden of St. George's Church.
1886 - 1889: PC Metelerkamp - A bookkeeper and auctioneer, Metelerkamp worked for William Lloyd of Thomas Prince & Co., shipping locally produced wool and skins to Port Elizabeth aboard the 116 ton steamship Namaqua.
1890 - 1894: CW Thesen JP - Served as a municipal councillor for more than 30 years, and as mayor on eight separate occasions. Mr. Thesen also served as the chairman of the Divisional Council.
1895 - 1897: PC Metelerkamp
1898 - 1902: James Henry (Harry) Templeman JP - Born in Devonshire, and educated in Cape Town, Harry Templeman travelled the world before settling in Knysna, where he entered the timber trade. He was a Justice of the Peace (JP) and owned two sawmills - one in town and one in the forests. He was also a director of the South Western Railway Co., Ltd (the Knysna Forest Railway or 'Cofffee Pot'), which operated a 31 km-long, narrow-gauge (2 ft or 610 mm) line between the port of Knysna and the sawmills in the forests from 1907 to 1949.
1903 - 1905: Henry P Morgan - Having held the license for the West End Hotel in 1882 (at the age of 16!) Henry Morgan rose to become a director of both the Colonial Timber Company, and the South Western Railway Company. He spent considerable energy promoting the mineral resources of the area, and  served on the committee that collected funds for the construction of Knysna's War Memorial.
1906 - 1907: William Patrick Cuthbert - arrived in South Africa in 1880, and established the East End Store (grocery, drapery, and hardware) when he settled in Knysna.
1908: James Henry (Harry) Templeman
1909 - 1911: Thomas G Horn - The son of Knysna's first mayor, Skipper Horn
1912 - 1915: James Henry (Harry) Templeman
1916 - 1917: JJ Spensley - A teacher and journalist who wrote several school readers, and who ran a successful newspaper at Cathcart in the Eastern Cape.
1918: William (Bill) Kennet - A native of Wales who came to Knysna in 1910 to run the Criterion Hotel (later the Newhaven Hotel), and later both the Knysna Hotel and the Imperial Hotel. He was responsible for creating local regulations regarding the Spanish Flu pandemic of 1918.
1919 - 1920: JJ Spensley
1921 - 1924: CW Thesen JP
1925: Howard J Parkes JP - The founder of Geo. Parkes & Sons, and a shareholder in the Knysna Forest Company. He was known for his generosity. The Memorial Church Hall in Union Street was given to the town in his memory.
1926: George W Cearn - the developer of Leisure Island, which he bought from the Duthies of Woodbourne. Strongly influenced by Japanese culture, he decorated the causeway to the Island (which he built) with a traditional torii gate. 
1927 - 1928 Commander EL Ashley Foakes (OBE, RN) - Served in the Royal Navy, and later became Naval Advisor to the General Post Office. He settled in Knysna in 1925, and was mayor in 1947 when the British royal family made their 3-month long tour of South Africa. He represented the town at the regional gathering in George in honour of the royals.
1929: JU (Barney) H du Preez - Studied teaching, and later dentistry (at the Royal Dental Hospital in Cape Town, where he qualified in 1923). Besides serving on the Town Council, he was also a member of the Publicity Association.
1930 - 1931: EL Ashley Foakes (OBE, RN)
1932 - 1934: Howard J Parkes JP
1935 - 1936: Donald J Fraser - Arrived in Knysna in 1923, and served on the Council for more than 30 years. During his time as mayor, he also served as chairman of the library committee. He bought the Royal Hotel from the Horn family in 1948.
1937 - 1938: Hjalmar Harison Thesen - Had a life-long interest in nature conservation. Pioneered the commercial honey industry in Knysna, and was instrumental in forming and developing the Knysna Oyster Co., on Thesen Island.
1939 - 1945: J Alex Wilson JP - a British-born engineer aboard the Thesens' Shipping Company's steamship Agnar who settled in Knysna in 1911 to become the manager/engineer of the South Western Railway. He served as a councillor for a total of 24 years.
1946 - 1947: EL Ashley Foakes (OBE, RN)
1948 - 1949: John Henry Roos-Bolton - built the Housecraft School buildings (later Heuwelkruin School and now Oakhill School), the first Knysna Railway Sstation, the original Heads Tea Room, and the Residency.  
1950 - 1951: Henry Edward Elliot Stent - a chartered accountant who worked with for Thesen and Co. in Cape Town before settling in Knysna after the Second World War, and who served as a councillor in Knysna for 23 years. He was president of the Knysna Child Welfare Society, and chairman of the Knysna Hospital Board when hospital opened its new premises (at the intersection of the N2 and Waterfront Drive) in 1973.
1952 - 1954: John Henry Roos-Bolton
1955 - 1956: George Parkes
1957 - 1958: Henry Edward Elliot Stent
1959 - 1962: Ernest Alfred Meyer - Served on the council for 22 years, and also on the Adminstrator's Advisory Committee on Nature and Environmental Conservation, and was a member of the Prime Minister's Planning Committee for the Southern Cape.,
1963 - 1965: John Henry Roos-Bolton
1966 - 1967: Ernest Alfred Meyer
1968 - 1969: Philip Finkelstein - a Past Master of the Freemasons, a founder member of the Knysna Bowling Club, treasurer of the Knysna Yacht Club, and chair of both the Choral Society and the Knysna and Leisure Isle Libraries.
1970 - 1971: Ernest Alfred Meyer
1972: Robert George McClelland
1973 - 1976: Ernest Alfred Meyer
1977 - 1979: Johannes Jurie Reinecke
1980 - 1982: Brigadier Douglas James Campbell, SM, MC
1982 - 1984: Hendrina Johanna Adriana (Tossie) Pickard - also served for two years as deputy mayor, and held the chair of the Health and Housing Committee.
1984 - 1987: Stanley Brian Thesen - the managing director of the family firm, Thesen & Co., and a member of the town council for 11 years. He also served on the Divisional Council.
1987 - 1988: Sophocles (Lucky or, in Greek, Dicheros) Dimopoulos - served on the Council for 9 years. He was elected president of the Knysna Rotary Club in 1987, and chair of the Hellenic Community of the Southern Cape in 1989.
1988 - 1990: Katherine Sass - A great, great, great granddaughter of George Rex, and granddaughter of Katie Metelerkamp, elected Knysna's first woman councillor in 1929. Katherine Sass served on the Council for ten and a half years.
1990 - 1992: Christopher Harison Edwards - The holder of a masters degree in traffic and transportation engineering from North Western Univeristy in the USA, Chris Edwards was a property developer (Woodmill Lane shopping centre) who served as commodore of the Knysna Yacht Club.
1993 - 1995: Deon Boshoff - An attorney with the legal firm of Vowels, Callahan and Boshoff.
1995: Mnililo (Thembe) Mfene - Knysna's first democratically elected mayor following South Africa's historic general elections in 1994.
1996 - 1999: Alan Kok
2000 - 2001: Stan Davis
2002 - 2003: Charles Thobi
2003: Wilfred Paulse
2003 - 2006: Joy Cole
2006 - 2007: Doris Wakeford-Brown
2007 - 2011: Eleanor Bouw-Spies
2011 - 2016: Georlene Wolmarans
2017: Eleanor Bouw-Spies
2018 - 2019: Mark Willemse
2020: Elrick van Aswegen