Pitt Street House: Our heritage in stone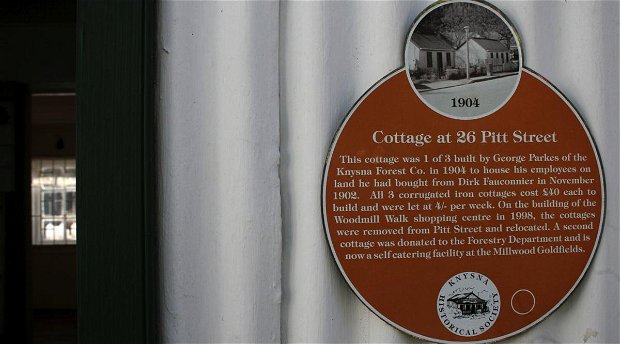 Visit this old building - originally a labourer's cottage at Parkes Sawmill in Knysna - for our exhibition exploring our heritage in stone
This little cottage was one of three originally erected in Pitt Street for workers at Parkes Sawmill (now the Woodmill Lane Shopping Centre). When the cottages were relocated in 1998 to make way for a new development, the Parkes family donated this one to the Knysna Museum. It now houses a series of recently completed (February 2020) interactive posters that explore our heritage in stone:
Geology of the Knysna Basin
The Knysna Heads
Early Stone Age archaeology in Knysna
Middle Stone Age archaeology in Knysna
Knysna's gold rush
How the gold was formed
Links below - please scroll down. 
Find us
Pitt St. House (behind Millwood House), corner Queen Street & Clyde Street, Knysna
Latitude, longitude -34.037275, 23.050865
From Knysna Central: drive eastwards on Main Street towards Plettenberg Bay. Turn right into Queen Street at the stone church (St. George's Anglican Church); you'll find the Pitt St. House behind Millwood House. Enter via Millwood House.
Knysna museum hours
Mondays to Fridays: 9.00 a.m. to 4.00pm
Saturdays: 9.00 a.m. to 12.00pm
Museum contact
Telephone: +27 (0)44 302 6320
Our Heritage in Stone