San Ambroso Chapel Museum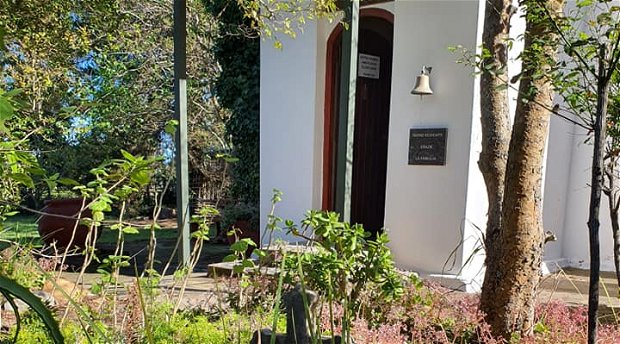 Visit this museum - erected as a Roman Catholic church in 1891 for the silk spinners of Gouna, and restored in 2005 by a descendant of those silk spinners
The church was originally dedicated to Saint Ambrose (Sant'Ambrogio), the patron saint of bees, domestic animals, livestock, candlemakers, students, etc.  
The silk spinners of Gouna
The Cape Colonial government sponsored thirty two silk spinners to emigrate to the Colony in the late 19th Century in order to establish a silk industry in the Knysna Forests.
The immigrants were hoping to escape violence and instability in their home city of Treviso, in northern Italy, and to build new lives for themselves in a country that promised them new homes, mulberry trees for their silkworms, and sheds in which to spin their silk.
The group (three families and a handful of single men) arrived at Knysna by ship on the 3rd of May, 1881. After a three week trek by ox-cart from the harbor to the Gouna Forest, they found only a few tents - and no mulberry trees - waiting for them.
Local people who had pushed the government to promote the project had failed to realise that the indigenous mulberry (Trimeria grandiflora) is not related to the white mulberry (Morus alba - a native of China), on which the silkworm survives.
The group received government rations for a short period of time, and they were eventually allotted plots of land, which they tried to farm - but without success. Some of the men left to find work on the roads, while others took up woodcutting to earn a living. 
The Church
The San Ambroso Church was built ten years after the group's arrival. Its design was intended to remind the reluctant settlers of their lives in the foothills in Italy, and to give them a closer connection to their home and religion.
The church was consecrated in 1891 by the George-based Reverend Rooney.
The name 'San Ambroso Chapel Museum' was adopted after the building was restored in 2005. The restoration  was carried out by Rayno Sciocatti, a direct descendant of the original silk spinners of Gouna.
Moerbeibos: The mulberry forest
Renowned South African author Dalene Matthee recounted the story of the silk spinners of Gouna in her 1987 novel, 'Moerbeibos' (Tafelberg Publishers, Cape Town, 1987) 
In her story, which is based loosely on actual events, a forest worker and his rebellious daughter try to help the silk spinners return to Italy.
Moerbeibos was translated into English ('The mulberry forest'), Dutch, German, and Swedish, and was also published in Braille. 
Visit the museum
Facebook: SanAmbroso (San Ambroso Agricultural and Historical site)
Telephone: 082 495 7953
Latitude, longitude: S33.969, E23.053
Author