The Motorcycle Room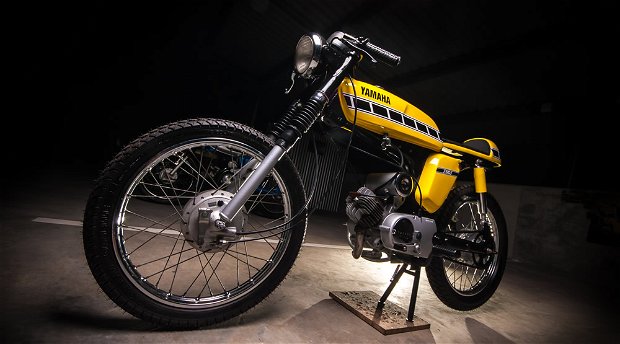 Private collection of the bikes we rode when we were growing up.
The Motorcycle Room is all about great memories about the bikes we had and rode growing up, the bikes we haven't seen in years, and the bikes we miss.
The collection includes old classics, vintage enduro bikes, motocross and superbikes, and a wide variety of customs too - but the emphasis is definitely on the tough little 50s of our schoolboy days.
Bikes like the Suzuki AS 50 of the 1960s, the Yamaha RZ50 of the late 1980s (known as the King of the 50s), and the more recent electric-start Yamaha TZR50 - probably one of the biggest and most expensive 50cc motorbikes ever built.
Classic bikes
Classic bikes in the collection include a 350cc Triumph 'Bath Tub' (a model that was built from '57 to '68), a 200cc Triumph Tiger Cub (built 54 - '68), and a rare, SRA 150 Puch from the 1960s (a 6hp machine with a top speed of 45 mph).
And every bike in The Room has a story - so go on, ask the museum staff about your favourites. (And then try and stop them!)
Rebuilds
The Motorcycle Room is all about the love of bikes - so here you can see the restoration and rebuilding bays from the museum floor.
Find The Motorcycle Room
3rd Floor, The Parking Shed, Thesen Harbour Town, Knysna
Latitude, longitude: -34.048229, 23.048008 
From Knysna Central: drive southwards on Long Street towards the lagoon. Cross the lagoon bridge. Turn left at the stop sign, and you'll drive directly into the Parking Shed. Parking is free.
A lift ensures access for wheelchairs.
The Motorcycle Room hours
During school holidays: daily from 9.00 a.m. to 5.00 p.m.
Out of holiday periods - Mondays to Fridays, 9.00 a.m. to 5.00 p.m.; Saturdays, 9.00 a.m. to 1.00 p.m.
Entrance fee: adults R100; pensioners and scholars R50
Contact The Motorcycle Room 
Motorcycle portraits by Duran de Villiers - Steadidrone 
Video by Jay Lentin 
The Motorcycle Room from Jaye Lentin on Vimeo.