Parkes Cottage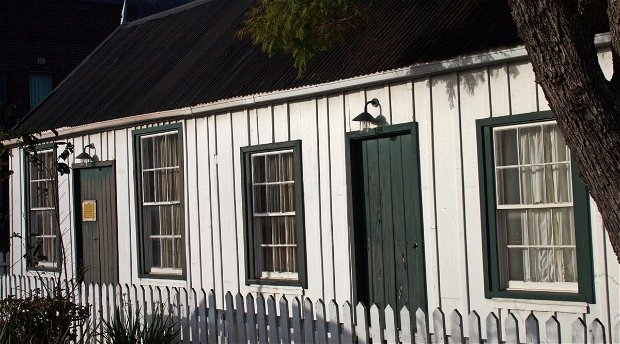 Visit this old cottage - originally built at the Millwood Goldfields - for our exhibition about gold mining in Knysna
Farmer James Hooper found the first deposits of alluvial gold in the Karatara River (west of Knysna) in 1876, but Knysna's 'gold rush' didn't really begin until the area around Millwood was declared open for public diggings in 1886, and John Barrington was appointed the official Gold Commissioner.
The fields had only a brief production life - and produced only (an officially recorded) 656 ounces of gold. But they were served by a busy little village (Millwood) that sprang up in the Goudveld area of the Knysna Forests to house (and entertain) the miners who came here.
Sadly, the whole show was pretty much over by the time Parkes Cottage was built in 1890. Nevertheless, the house was later dismantled, transported, and re-erected in the main square in Knysna (near the present-day war memorial), where it was occupied by the offices of G.W. Brent-Steytler, Law Agent. It was later moved again to Rawson Street, where it became the home of Hendrik Barnard, and later still to Queen Street, where it served at first as the Knysna home of the South African Legion.
Now, as one of the five buildings of the Knysna Museum, it houses displays about the history of Millwood, and about George Rex (the first permanent settler in the area in the early 1800s). It also houses the Museum Curator's office.  
Find us
Parkes Cottage (behind Millwood House), corner Queen Street & Clyde Street, Knysna
Latitude, longitude -34.037275, 23.050865
From Knysna Central: drive eastwards on Main Street towards Plettenberg Bay. Turn right into Queen Street at the stone church (St. George's Anglican Church); you'll find Parkes Cottage on your left on the corner at the T-junction. Enter via Millwood House.
Knysna museum hours
Mondays to Fridays: 9.00 a.m. to 4.00pm
Saturdays: 9.00 a.m. to 12.00pm
Museum contact
Telephone: +27 (0)44 302 6320