The Parkes Shop story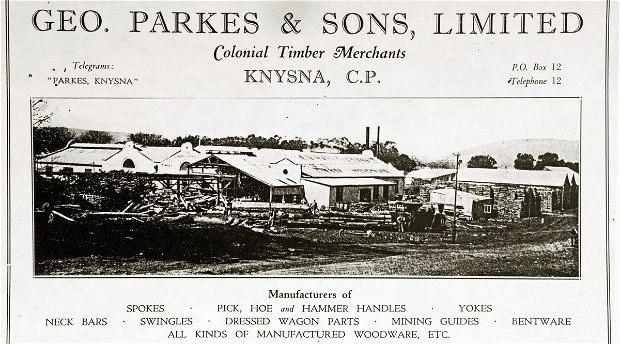 This Victorian-era building was built as a commissary for the workers at Parkes Sawmill, and was moved to its current position next to Millwood House in its hundredth year.
Built in 1890 in the grounds of Parkes's sawmill - at that time situated on the corner of St Georges and Rawson Streets in the centre of town - the Parkes Shop is a colonial/Victorian-style wood-and-corrugated-iron building. It was operated as a general dealer's (supply store) for the mill staff and workers, selling items like flour, sugar, coffee, canned goods, and toiletries, until it was closed down in 1972.
Trading under a sign that read, 'Geo. Parkes & Sons (Pty) Ltd. Timber and General Merchants,' and with a large sliding door on the western side for direct access to the coaches, Parkes Shop was conveniently situated next to a branch line of the Coffee Pot railway (South Western Railway Co.), which connected it to the government jetty on Thesen Island, and to the Knysna Forests.
The building itself boasts a corrugated iron roof and corrugated iron walls fixed to yellowwood frames. The floor is mainly yellowwood, and the large counter where the workers would have been served is made of oregon pine and yellowwood.
The shop was dismantled, moved, and rebuilt in its present position behind Millwood House on Queen Street in 1990, when  the brick-and-mortar buildings of the mill were repurposed as the Woodmill Lane shopping centre. (The mill buildings - which had themselves replaced earlier, wooden structures - were originally erected in 1919).
The first exhibition in the shop - about the history of Knysna's timber industry - was sponsored by Thesen & Co. (timber merchants here in Knysna), and the Knysna Woodcrafters Guild.
Noonday siren
The pace of life in the little village of Knysna was regulated for many years by the sound of the noonday siren, which signalled the start of the lunch break for the workers at Parkes's Sawmill. Listen out for it - because although the soundscape of the town is no longer dominated by the screech and roar of giant saws and big milling machines, the developers of Woodmill Lane installed a siren on the side of one of the mill's original chimneys in the early 2000s, and thus revived the tradition of Knysna's noonday siren.