Literary (accidental) tourist: George Bernard Shaw's five productive weeks in Knysna
Posted on Thu January 14, 2021.
Chris Everett, author of 'Noetzie - An Illustrated History,' on how GBS experienced an extended stay in Knysna - and wrote one of his many books while he was here, too.
One of the famous visitors to Noetzie was the playwright and music critic George Bernard Shaw, always known as GBS. He was born in 1856 and was a co-founder of the London School of Economics, as well as writing more than 60 plays. He was also an essayist, novelist and short story writer. Nearly all his writings address prevailing social issues, including education, marriage, religion, government, health care, and class privilege. An ardent socialist, Shaw wrote many brochures and speeches for the Fabian Society, promoting equal rights for men and women, the alleviation of abuses of the working class, rescinding private ownership of productive land, and promoting healthy lifestyles.
He is the only person to have been awarded both a Nobel Prize in Literature (1925) and an Oscar (1938), for his contributions to literature and for his work on the film Pygmalion (an adaptation of his play of the same name, which also later formed the basis for the musical My Fair Lady).
He visited South Africa in 1932 at the age of 75 and again in 1935, on that occasion visiting only Natal. On his first visit, although he initially had meant to land for a few days only and take the same ship back to Britain, he decided to extend the trip and while in Cape Town, he went up Table Mountain by cable-car and took the first flight of his life around the Cape Peninsula.
He also had an introduction to surfing at Muizenberg, as this extract from SA Travel News (see gallery) shows.
Having enjoyed a month of Cape hospitality and friendship, mountains and sunshine, bathing and motoring, fruit orchards and vineyards, he stunned his listeners by launching into an attack on the faults of privileged white South African society. He spoke of the capital invested in 'splendid hotels, golf links, polo grounds...' and of 'unproductive plutocrats' and their dependence on the labour of others `not of my own colour,' and said he felt as if he was in the worst kind of 'Slave State'. He went on in similar fashion in a broadcast which was carried by 1,500 miles of telephone wire from Cape Town to Durban, Bloemfontein, Johannesburg and Pretoria simultaneously. White South Africans were angry and there was strong reaction in the press. However unpalatable it may have been, Shaw's parting shot to Cape Town contained discomforting truths to those who regarded themselves as admirers of his fame in the world of theatre.
GBS crashes his car, Charlotte Payne-Townshend injured
Shaw and his wife, Charlotte Payne-Townshend, left Cape Town and motored along the Garden Route towards Port Elizabeth where they were to board a ship for Durban, after which they would sail back home up Africa's east coast. However an accident intervened - Shaw was driving and having negotiated the mountainous roads successfully, reached a smooth section, 'let the car rip', hit a bump, and charged through a bank and five strands of barbed wire into a ditch. Charlotte was injured. They reached Knysna, booked in at Fraser's Royal Hotel (owned by Margaret Parkes' father) and stayed for five weeks.
While Charlotte recovered, Shaw wrote his novella, 'The Adventures of the Black Girl in Her Search for God', which is a book of short stories and is a satirical allegory relating the experiences of an African girl, freshly converted to Christianity, who takes literally the biblical injunction to "Seek and you shall find me" and attempts to seek out and actually speak to God. Both the story and the essay outraged the religious public, ironically creating additional demand that supported five reprintings. Shaw exacerbated the general furore by proposing intermarriage of blacks and whites as a solution to racial problems in South Africa. This was taken as a bad joke in Britain and as blasphemy in Nazi Germany.
During his time in Knysna, Shaw visited Noetzie and again went surfing, as this delightful picture, kindly provided by Margaret Parkes, shows. Certainly on this occasion, the oft-repeated story that he outraged the public by bathing nude was not true, although there are many other well-attested stories of his liking for doing so.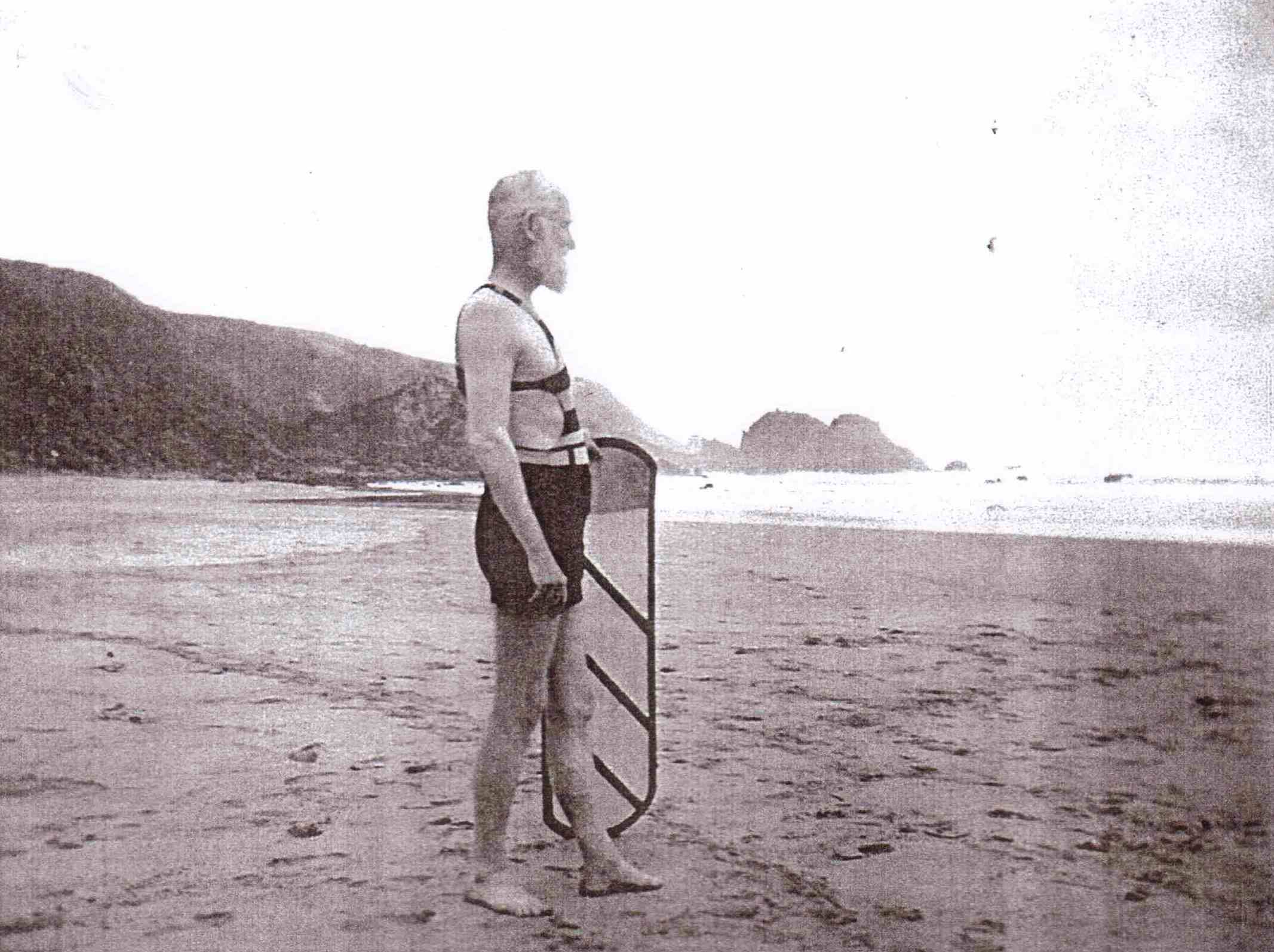 Noetzie
For information about Noetzie beach and the Noetzie conservancy, please visit noetzie.co.za.
Author
This article was written by Chris Everett for the Noetzie Conservancy Owners' Association Newsletter, May 2014. Republished with permission.