Rotary sponsors pop-up museums for local schools and libraries
Posted on Mon May 20, 2019.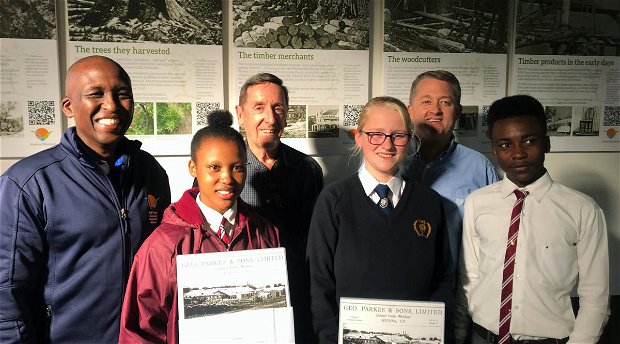 The Rotary Club of Knysna has sponsored 'pop-up museums' about Knysna's timber heritage for display in the town's libraries and high schools.
The Rotary Club of Knysna last Thursday (16 May, 2019) handed 15 sets of posters - each of which forms a 'pop-up museum' about Knysna's timber heritage - to representatives of the town's libraries and high schools.
The poster series was developed for the Knysna Museum by Martin Hatchuel (writer) and Jo Hugo (graphic designer) using original and archival photos, and is based on pages on the web site, knysnamuseums.co.za.
The first set of A1-sized posters, printed on museum-quality canvas and stretched on wooden frames, hangs in the Parkes Shop in the Millwood House complex of the Knysna Museum. The schools and libraries received laminated, A3-sized reprints of these posters.
Each poster contains a limited amount of text (maximum 100 words - designed to excite interest in the poster's theme) as well as an invitation to visit the corresponding page on the site, and a QR (quick response) code, which links to the same page. When users scan these codes with their smart phones, the phones will automatically direct them to the relevant pages, where they're presented with multimedia experiences - text, images, pdf files, and videos.
Knysna's timber heritage is told on these posters through the stories of the Parkes Shop, the Knysna forests, the woodcutters, the timber merchants, the trees they harvested, timber products in the early days, the Coffee Pot Railway (with original footage of the little train in action), and books and movies about the forests.  
The Rotary-sponsored poster sets will be distributed to the Main Road, Sedgefield, Smutsville, Rheenendal, Hornlee, Masifunde, Khayalethu, and Brackenhill libraries, and, via the individual Interact Clubs, to Percy Mdala, Concordia, Knysna, Knysna Sekonder, Oakhill, Heatherhill, and Montessori High Schools.
Besides the educational value of the posters and the web site to pupils at the schools, the information on the web site will be of value to tour guides, tour operators, and anyone who has an interest in Knysna's history - with, of course,  the added benefit of being accessible around the world.
Members of the public can visit the display at the Parkes Shop, or access the web pages themselves - all of which can be found under https://www.knysnamuseums.co.za/pages/parkes-shop/
Image
Handover at the Parkes Shop, Knysna Museum, 16 May, 2019 - From left to right: Xola Frans (Knysna Municipality); Latoya Baba (Percy Mdala High Interact Club); Philip Caveney (Knysna Historical Society); Megan Hunter (Knysna High Interact Club); Herb Hunter (Knysna Rotary); Brandmore Sandile Mngcitha (Percy Mdala High Interact Club)
Parkes Shop timber heritage posters: display order and URLs
This poster series is designed to be read as a story. For best results, please display the posters in the following order (left to right):
Edit: Additional pages. January, 2021
Additional pages and posters have been added to this series since the publication of this article. Please see:
See also: Our Heritage in Stone