Knysna Harbour Pilots 1818-1954
Posted on Sat May 16, 2020.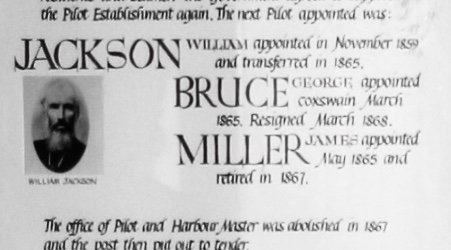 All the pilots who served at the Knysna Heads: a (lightly edited) transcript of a hand-written exhibit in the Knysna Museum's Maritime Collection
Knysna Harbour Pilots 1818-1954
From 1818-1954 (136 years) there were 15 pilots or harbour masters appointed to the port of Knysna
John Gough - appointed 19 February, 1818 by Lord Charles Somerset, dismissed March 1820 for negligence.
Thomas Finn - appointed 3 March, 1820, drowned on duty 11 August, 1820.
Edward Wallace - appointed 15 June, 1821. Transferred to Port Francis (Port Alfred) in 1825.
John Mackenzie Johnson (ex Royal Navy lieutenant) - appointed October 1825, transferred as Deputy Port Captain to Table Bay 20 June, 1826
These four pilots were all government appointees. During their terms of office there had been two shipwrecks and numerous complaints from the pilots concerning equipment, staff, and housing. The government then closed down the Pilot Establishment. 
The Rex family voluntarily undertook the provision of signals from the tower on the Eastern Head for the next 33 years. As a result of urgent applications from local residents and seamen, the government agreed to support the Pilot Establishment again. The next pilot appointed was:
William Jackson - appointed in November 1859 and transferred in 1865.
George Bruce - appointed coxswain March 1865, resigned March 1868.
James Miller - appointed May 1865 and retired in 1867.
The office of pilot and harbour master was abolished in 1867, and the post was then put out to tender.
John Benn I - appointed 1 April 1868 & died in 1877.
John Benn II - appointed in 1877. During office of 35 years, saved 16 lives on the bar. Retired in 1912.
Donald Benn - was assistant pilot from 1888 & retired in 1912.
Lauritz Marchussen (ex master of the Thesen Line's ss Agnar) - appointed in 1912, retired 1930.
Bernard Lynch - was appointed in 1930 and transferred in 1931.
William Rose - was appointed in May 1931 & transferred in 1933.
Thomas Conning Benn (previously signalman and assistant pilot) - appointed in 1933, retired 8 April, 1945.
Reuben Benn - was appointed April 1945. Transferred to Durban on closure of the port in 1954.
Visit Knysna's Maritime Collection on line
NSRI Knysna
These days, the volunteers of the National Sea Rescue Knysna (Station 12) carry out many of the pilots' duties.