Margaret Parkes: a lifetime in service to culture in Knysna
Posted on Sat June 24, 2017.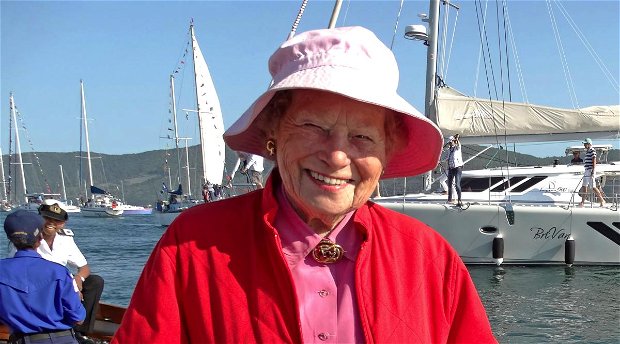 Local author and historian, Margaret Parkes

Knysna's history has always fascinated Margaret Parkes.
Born Margaret Fraser - her father owned Frasers's Royal Hotel, on the corner opposite St. George's Church - she grew up in Knysna (in a house where the Post Office stands today), and went on to study as a teacher before marrying Bernard Parkes in 1952, and with whom she had two sons: George and Jim.
Bernard passed away during a holiday in Scotland in 1982, and it was after this sad loss that she began to write.
"I was on the founding committee of the local museum - I was its curator - and you have to have something to do in life if you're on your own," she said.
Forgotten Port
In all, Margaret researched and produced thirteen books and pamphlets with her writing partner, Vicky Williams - of which the most famous must be Knysna the Forgotten Port.
Published by Emu in 1988 in a signed and numbered, limited edition of 500 (and sold for R 31.00 each), first edition copies of Forgotten Port are now highly sought-after by collectors - although reprints (from 1988 and 2004) also fetch excellent prices.
"When they closed the Knysna Harbour in 1954, they sent the pilot's logbook to Port Elizabeth, and although I approached Hans Huismen, who was the harbour engineer there and the chairperson of the Port Elizabeth Historical Society, and although he looked everywhere for it, nobody knew where that logbook had gone.
"So in Knysna, the only shipping record is at the back of that book (Forgotten Port) - and I only mentioned the first visit of every ship."
Friends of the Library
But history hasn't been Margaret's only passion: she served as chair of the Friends of the Knysna Library for twenty five years - until just last year, when she handed the reins to Florence Erasmus... And stepped into the deputy's position.
During her time with the Friends, Margaret built a comprehensive collection of books by Knysna-based authors, and recently presided over the construction of a special cabinet to house it. (Made in the style of the historic Union Steamship Company cabinet that has graced the Main Street Library's activity room for more than a century, the new cabinet was built by Fechter's out of timber donated by Geo. Parkes & Co.)
Treasured award
Margaret's beautiful home is, of course, decorated with the treasures of a lifetime - but of all her mementos, one stands out: the Cape Tercentenary Foundation's Molteno Medal, which was presented to her in 2000 at Groot Constantia, where she was one of fourteen honourees.
"There I was in the company of all these illustrious people: it was quite an occasion!" she said.
And it's fitting that the inscription reads 'For services to conservation' - because Margaret Parkes has served our entire town her entire life.
Portrait of Margaret Parkes: Mark Taylor