What's with Knysna's Town Hall?
Posted on Sun May 10, 2020.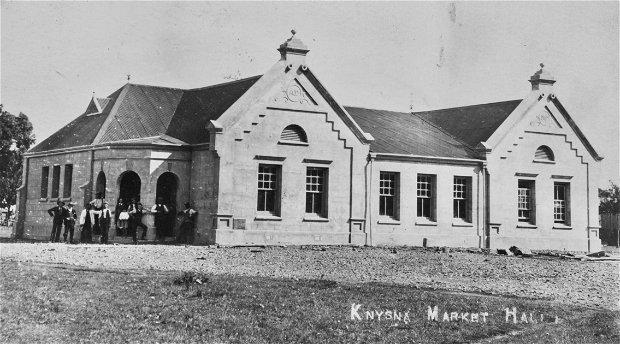 Does Knysna have a town hall? Well, yes and no.
The story of Knysna's Market Hall told by historian Philip Caveney
Unusually for a small town like ours, our town hall isn't exactly the centre of community life in Knysna - and that's probably because you can't really see it behind the face brick building at the lower end of Queen Street.
Market Hall
In fact, what passes for a town hall today began life as a market hall whose foundation stone was laid during a ceremony on 12 January, 1909 - correctly checked and pronounced true by the local Freemasons, of course.
The hall was opened on 25 May, 1909 but, to quote the Knysna Historical Society's Brown Plaque, it was "used for dances, the annual horticultural show, concerts, choral performances, ballet classes and also served as the electoral voting station."
As Philip points out in his research paper (below): "Everything but for holding a farmer's market!

"Did the farmers benefit? Definitely not!"
Facade lost 
The building's elegant facade was lost to view in 1963 when the Council built a new wing to house its chambers and the mayor's office and parlour: that face brick building already mentioned.
Read the full story below, or... 
click here to download the pdf